I have been neglectful of the blog again, and have spent the last week back in Chicago. Here's a quick selection of some of the places I ate at during my week there
820 W Lake Street
I have written about it before, but it is good.
We started with the most amazing tomato tartare, titled "Momotaro Tartare" on their menu, which was Japanese Sweet Tomato, Maui Onion and Shiso. It was delicious!
Then we had the Sushi Omakase and the Sashimi Omakase ($50 each), accompanied by the same, crisp Infamous Goose Sauvignon Blanc I had last time. This was the first time I had ordered dessert here, and it was fantastic. Chocolate sponge, ganache, ice cream and then topped with warm chocolate sauce- so good!
All in all, the perfect dinner when you have just stepped off a plane!
531 N Damen
Big Star is the only place I have ever asked for a drink to be watered down. Everything about this place is about strength of flavours. A post-work girly drink turned into 3 magaritas. Big Star Magaritas are Lunazul Blanco, Vida Mezcal, Lime and Marie Brizard Orange Curacao and they are strong. Really strong.
After a few drinks, we needed sustenance, which came in the form of some classic chips and salsa served with verde and chipotle and guacamole. The sun was out in Chicago last week, and this place is best when the sun is shining. It is cash only though…so unless you want to use the ATM in there (it did NOT like my English cards), remember to bring some money!
111 W Kinzie
The premise of this place is a supper club/speakeasy. And they have taken it to an extreme: the cab dropped us off, and we wandered around trying to find the entrance. A single door, with no signage, but we found it and descended underground for some drinks and food. Dark, moody and committed to the "theme", it was a good find. I started with a Green Monster to drink: Bombay Gin, Green Chartreuse, Chase Elderflower, Mint and  Cucumber, and then a Grass Fed Beef Burger, with tallegio cheese, tomato jam, giardiniera and served in a pretzel bun. It also came with Kennebec Frites, with bourbon stout cheese and spicy buttermilk ranch.
I also snapped a quick video of the live band as we left but I am having some technical issues in uploading it…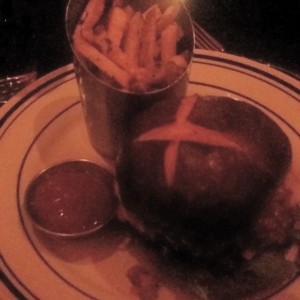 435 N Clark
Very strong drinks: Three Dots and a Dash is a tiki bar with some dramatic drinks on their menu. I chose a Dead Reckoning: aged Jamaican rum, Armagnac, Tawny Port, Vanilla, Pineapple and Angostura Bitters. It was busy, the floor was sticky and service kind of slow. But people were dressed up, and seemed to be enjoying themselves and embracing the tiki tone, so perhaps there was just something I wasn't getting!? After one drink, we moved on, first to a sports bar (too busy!) and then up to Wicker Park and back to Piece- which I wrote about after my last visit here where we watched the Blackhawks, drank Stiegl and ate pizza.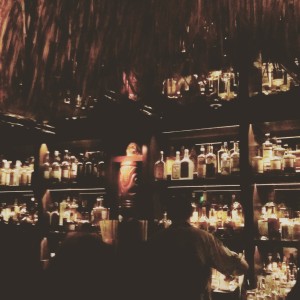 2119 S Halsted
This place has been on my list of places to try for a while, and my friend agreed to traipse all the way over to Pilsen to join me!
I had three of the Bellini No2 (me and my fellow Brit revelled in the fact that it's acceptable in the US to get a buzz pre noon on a Sunday…) which was Champagne, Framboise and Grapefruit Juice
I then had Rapini, Maitake and Raclette Strada with baby lettuces and banyuls vinaigrette. I like Strada. I cook Strada at home- it's one of the eggy dishes on the cleared list. So I was a little disappointed to see it arrive with a fried egg on top…but I skilfully removed it and enjoyed Strada as I believe it should be!
My friend had Three Sister's White Cornmeal Polenta, Braised Short Rib, Caramelized Tomato, Leeks, Savoury, Soft Boiled Egg and Grilled Bread.
I liked the interior (and the chairs!) – we sat at the bar for the first 2 drinks and outside for our meal. I also liked the exhibit from Lyndsey Marko called All That Heaven Allows (perhaps a connection to Bruce Springsteen…I am going to imagine so!)
Love ya Chicago! Until next time…