The Christmas holiday has started to induce cabin fever: after a long walk yesterday, we decided to head over to Bristol in the rain and visit Bell's Diner. I have read (and heard) multiple reviews of this place, so decided to venture out to it. If you're near Bristol, it's about 10-15 minute walk from Cabot's Circus. So you can park your car there and walk (a lot of the streets in Montpellier are permit only parking). It's a great little tour of old Bristol as well as there being a whole load of interesting graffiti (potentially giving rise to the claim that you are more likely to see a Banksy than a policeman in Bristol!)
Bell's Diner is on a corner in Montpellier. It's a small place and we were seated in the main room, which is adorned with old scales, coffee roasters and ferns and plays great music.
We were given a one page food menu, and an record album cover with an extensive alcohol list. (The neighbouring table had Arlo Guthrie's "Alice's Restaurant" as their menu cover, which I tried to snap as my dad used to play that song to us). It was lunchtime, so we kept it non-alcoholic, but the menu did have some wise words from Homer and Homer:  "The wine urges me on, the bewitching wine, which sets even a wise man to singing and to laughing gently and rouses him up to dance and brings forth words which were better unspoken." from Homer's Odyssey, and "Here's to alcohol: the cause of and solution to all of life's problems" from Homer Simpson.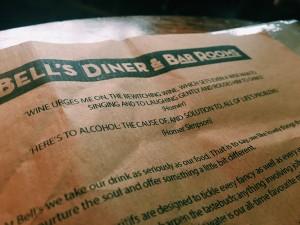 The menu isn't set up as starters and mains- it's more like tapas. You order a few of them, and they arrive in no particular order.
We ordered Salchichon (the taste of summer in Spain!) which came with fresh bread. Then the Carrot, Caraway and Feta Fritters arrived which were served with beetroot. These were amazing, and probably the best vegetarian food I have ever had. Then there was Gnudi served with a Venison Ragu. I have never had Gnudi before: the translation from Italian is "nude", and it it like Gnocchi but made from ricotta cheese rather than potato. The final dish (which isn't photographed) was Chicken Oyster Pincho with Harissa Paste and Yogurt.
All of this came to only £31 as well! Well worth a trek in the pouring rain for!