I saw these bags, phone, laptop and tablet covers in STUK. PAP (Premium Accessories by Pyk) is a Swedish brand that uses leather with solid brass details. Their website talks about timeless design that is always modern.
My favourite is this Emma shoulder bag in Tan €399
Definitely a contender for the bag investment…
The brainchild of two people, stranded without luggage, the original concept was about "mini-bar" underwear, which then extended to a full range. Beautiful packaging. Beautiful models. This is a simple range of vests, t shirts and boxers (and pants for girls!) in classic white, black and marl grey, made from 100% organic cotton. My favourite is this classic relaxed crew neck in grey for €29.95
I wrote about Granit in the main post on the trip here, but this shop is great design, well priced. It is form and function combined in classic, Swedish style. Love.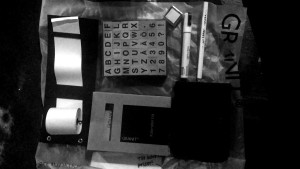 Gram is all about making sophisticated sneakers. Beautiful design: clean lines and simple. Much of the idea, as the name suggests, is around the concept of weight and the names of each shoe correlate with the first sample's weight in grams.
Just beautiful bags with simple design
Scandinavian detail and lasting functionality in lifestyle products
I love this cable tidy- I need it by my bed! Unfortunately it had European plugs in it…
Nice, simple jewellery
Love this necklace for 399KR
Sustainable tights, in great designs
I am always on the hunt for good tights, as I wear them all year round- even in the summer!
I love these Nina Fishbone ones…these ladies deserve a congratulations for finding a tasteful way of photographing tights as well…