As this is a spare room, we did a bit of upcycling and bargain hunting for it! There's a few different shades of grey going on, but it's ok!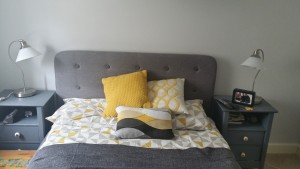 Paint- Polished Pebble by Dulux
Lamps- IKEA
Cushions- Target (these were bought in 2013, but they have loads of them!)
Grey blanket- IKEA
Beatles Print- eBay
Bedside tables- old, white ones painted dark grey. I think the handles are Lisbeth Dahl, but you can find a selection at French Grey here
Bed- Ashby Double Bed by Argos £149.99
Duvet Cover- Skandi Geo by Dunelm Mill £16.99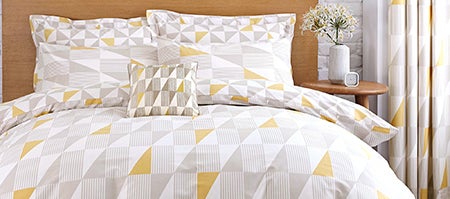 The ottoman has had a couple of leases of life
I purchased it in 2009 on eBay and it was looking a bit worse for wear. I upcycled it once to the cream, more traditional Art Nouveau style but for this room I repainted it with the Polished Pebble and recovered the top with some left over fabric I had from our living room curtains. I just used a staple gun (as opposed to the more traditional braiding and nail method I used before) and it was just a quick, no more than 1 hour, job.