My dad always has the same dish when he visits a curry house: a Chicken Tikka Dhansak. It's a benchmark, for him, on the quality of the restaurant. It's a good theory: it helps you judge on a set criteria.
I thought about doing a review of my favourite cookery books. There are 46 cookery books in my kitchen. I stared at the two shelves, trying to select which ones to post about when I realised: I don't have a benchmark! So I've decided that my benchmark is going to be based on a brownie recipe.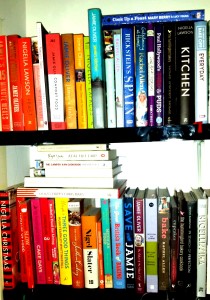 This is going to be a bit of series of blog posts. I am going to attempt to work my way through (weekly) the various brownie recipes on this shelf. So much for January and New Year resolutions, eh?! My usual go-to brownie recipe is in the Hummingbird Bakery book (here in the UK for £5 or here in the US for $18.76), so I will be straying from a trusted favourite!
I started this week with Nigella's "How To Be A Domestic Goddess", a cookbook classic available on Amazon in the UK here for £12.91 and Amazon in the US here for $8.36 (on Marketplace only for some reason).
I'll be honest: the first venture outside of the norm wasn't a success. It said to cook for 30 minutes at 180c. After 30 minutes, the buzzer went. I checked on it- it didn't look cooked. So I put it in for another 10 minutes. Same again. So another 10 minutes. Then I removed it.
Maybe it's my oven. Maybe it's the recipe. But these brownies are gooey. And not in a good way. In a RAW way. The ones around the edge are cooked and the verdict is, they have too much air in them. I guess it's personal preference, but for me, a brownie should be dense- less sponge like, more…slab like.
What I did like about the method is the whisking of the eggs, sugar and vanilla to pour into the butter and chocolate. In the past, I have just cracked the eggs into the chocolate/butter concoction and you end up chasing the slippery yolks around the pan to try and whisk them in! This bit worked much better in Nigella's recipe.
Like I said- it could be my oven, but this brownie recipe doesn't beat the benchmark! 5/10 only!