Not a Michelin star this time, but that is compensated by the stylish decor. This restaurant was awarded the Best Design Restaurant in the world, having been created by Menu and Norm Architects.
The serving staff are beautiful: we had a Ruby Rose look-a-like serving us. The drunker I got, the more I repeated (not to her face, of course) "that woman is stunning". She was. I wish I could pull off a cropped hairstyle like that. So, beautiful setting, beautiful staff the next thing is the beautiful food.
This time we went for it: we did the "An evening at Host" from the menu: sparkling wine, three courses, wine pairing, coffee, water- all of it, all in for 595DKK or £60. It was so much more than three courses though.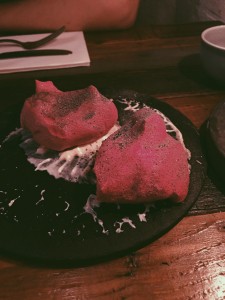 It started with some sparkling wine and an amuse bouche, in the form of a beetroot meringue. It reminded me of that floristry oasis- it simply disappeared when you bit into it, like a bright pink dust!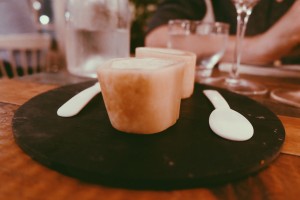 Following on from this, a slate arrived with two hollowed out pieces of bone. In the cavity was beef tartare, topped with a bone marrow cream. If you're vegetarian, it probably seems utterly barbaric to hollow out a bone and stuff it with the meat. I kept thinking that when I was eating it. The utensil was like the kind of scoop you get with ice cream, but whittled out of something like Mother of Pearl. Or perhaps it was bone- that would make more sense. Anyway, I can take or leave beef tartare. It's ok. Perhaps I haven't had phenomenal beef tartare yet. I like it, I'll eat it, but it never has me punching the air and exclaiming "YES! RAW MINCED BEEF!"*
After this, the next dish was a little bit more "New Nordic": tiny pies of lingonberries and blue cheese (divine) and then a bowl of duck heart in a milky froth. We think it had artichoke in it too. Given the track record from the other restaurants, it wouldn't surprise me. The heart lumps weren't the most pleasant thing. I am actually not a huge offal fan either (I know, I sound like a picky eater, I am not). However, I do believe that offal can be good if prepared properly. Japan definitely proved that to me. You had to eat that course pie first, then the duck heart froth. Chef said so. We obeyed.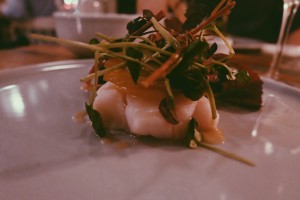 Finally, we got our first proper course: Hake with pickled onions, watercress and sauce from apples and pork . It was the unfishiest fish I think I have ever eaten. It was almost like meat. It was delicious. Beautifully presented and beautifully flavoured. Yum yum. And served with a crisp Chablis. I simply couldn't have this wine pairing double parked. Down went the sparkling wine. Down went the other sparkling wine and on I cracked with the Chabils. I had, a couple of hours before this, been drinking at Lidkoeb. So, you can see where this story may be heading.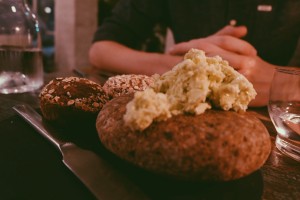 Next, a bit of bread. The bread was ok- nothing spectacular. The butter was made with wheatgerm. Served on a stone. Of course- as is the Nordic way. I have to say, I was relieved when I heard wheatgerm. I saw a mound of green, churned stuff coming at me and thought "If that is green scrambled egg I am going to have to ask them to take it away". Awkward British moment avoided. Hurrah.
Then the goose with dried cabbage, celeriac and burned butter . It also came with a sauce of fermented garlic in- you've guessed it- a teeny weeny saucepan and it was poured over it at the table. The red wine was the best wine- I know it was a Super Tuscan (the extent of my red wine education) and it was delicious. Yeah. I drank both sparkling wines. And both red wines.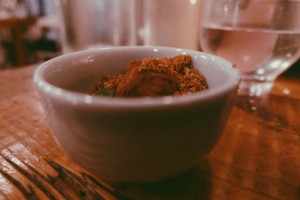 Dessert was a three part process. Any restaurant that delivers you a pre-dessert (and no, a shitty ball of crap sorbet does NOT count), wins in my book. Especially when it is Danish yogurt with salted caramel dust (not the right word). If anybody has had yogurt from a Scandinavian country, you will know it is decadent, think and creamy and is in no way reminiscent of fat free, aspartame filled crappy yogurt you find in the supermarket at home.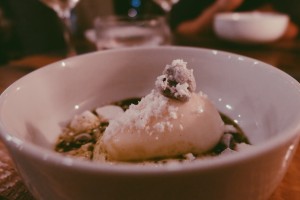 The main dessert event was a lemon mousse with pear-sorbet, walnuts and meringue with a thyme oil. Yep. They poured it over, at the table. Honestly, I don't think a dessert needs a salad dressing. Just my humble opinion. Yummy nonetheless. This was paired with a sweet, sparkling dessert wine. I don't know, but I may have drunk both glasses of that too.
Just when you think it is all over, ANOTHER dessert arrived! This time, a hard shelled, chocolate caramel something, surrounded with a kind of crumb that when you put it in  your mouth, it popped like popping candy. It was some Willy Wonka voodoo, but with that much wine and the third dessert, I was giddy and elated, as you can imagine.
So, at this stage, the restaurant is very, very warm. I am on my sixth (ish) glass of wine. We've eaten some amazing food. I am getting less and less subtle about how beautiful our waitress is. It was time for coffee. What a disappointment! It was like the coffee you get at a conference centre! So sad! I should have avoided it, but I needed to sober up. It ended up keeping me awake with a caffeine buzz until 5am.
Höst gives you some of the adventure of a Michelin star restaurant, in a Scandi designed setting without the pretension of some of the others, It is genuinely relaxed, fun and great value with the menu and wine pairing offer. I really would recommend visiting this restaurant if you're heading to Copenhagen. I'm fairly certain I had a good night.
*carpaccio is in a different class all together.