When I was in Gothenburg I visited a store called Granit and blogged about some of my purchases here.
Today was the first time I actually used some of the things I bought to make a birthday card for a friend. I used:
Black Notecards and Envelopes
White Pencil
White Pen
White Printing Ink
Alphabet Rubber Stamps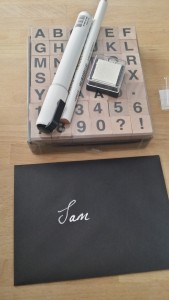 The first thing I did was sketch out the lettering in pencil and the go over it with the white pen.
Then, I used the stamps with the intent to do the whole message using them- it didn't go to plan, as I kept accidentally getting the corners of the ink on the card! The overall effect was ok though!