The last dinner of 2015 was spent at The Ox in Cheltenham and it was delicious! The restaurant is downstairs in a building in Cambray Place and you enter through a leather, padded porch. The restaurant is dark, cosy and eclectically decorated (including a stuffed peacock and a ceiling mural). The staff were great: really welcoming, professional and I particularly loved the response of "yeah, that's well lush", in response to my dessert choice. Some of the best bits about living it the West Country! My photos aren't great- low light and wobbly hands, but you can get a sense of how good it was!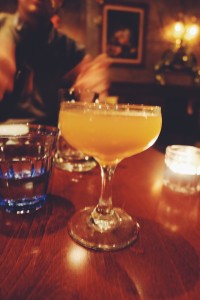 Bellini Bambino to start with and the beer was from the Wild Beer Company, which is also in Cambray Place. We then had the fresh bread (£2.50) to start (we hadn't really eaten all day, knowing that we were coming for dinner!)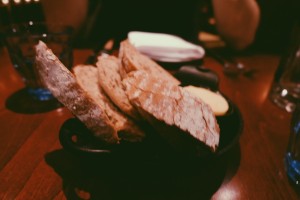 For starters we had the Hickory Smoked Sticky Ribs with Chopped Salad (£6.50) and, from the "Toast" menu the Fois Gras Terrine with chutney and pickles (£8.50)
Then, this really was the star of the show! A 30oz T-bone steak to share with triple cooked chips, green peppercorn sauce, leeks & greens (£65 to share). I have written before about how good the steak is in America and this is the first time I have had anything in the UK that resembles it.  The whole place had a bit of an American feel and they played great music: a whole load of soul and Motown, which perfectly suited the mood.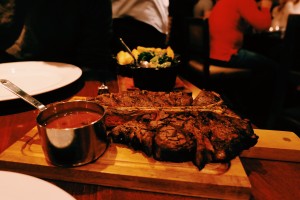 Because it was New Years Eve, we also had dessert! It was a chocolate and salted caramel delice served with Chantilly Cream (there was something in it- but it's not on their online menu!) and poached pear.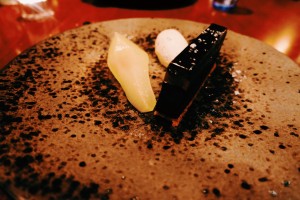 I really loved this place, and it is such a good find. They have a restaurant in Bristol as well, but (to be honest) the parking in Bristol is such a nightmare, I would rather go over to Cheltenham! (You can park at either Beechwood or Regents Arcade and it's a short walk)
Well recommended!