This is where all the food starts to blend together, and I should have been my usual, studious self and kept up with my blog writing as I went along. Forty-eight hours after I arrived, I am back in Copenhagen airport. It probably wins on "best shopping at an airport". It's not just ridiculously expensive stuff either. Anyway, I have purchased my obligatory crap fridge magnet for the collection, and found my way to the BA lounge. Now it's time to decipher the 25+ courses I have eaten and photographed over the last two days (it's not as greedy as it sounds…but it is pretty greedy) and work out what was eaten where, and whether it was good or not.
So, starting chronologically. On Wednesday night we strolled over to the northern part of the city, near Nørrebro and stopped at a drink at Mikkeller and Friends, where they brew their own beer. Copenhagen is most definitely a Carlsberg city so if you want anything else, this is a good option (and I am not really a beer drinker!). I got the festive feeling with a "Have a Hoppy Christmas".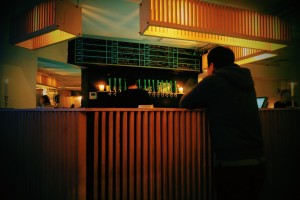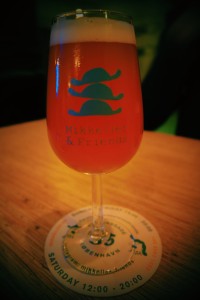 After this, we walked over to Relae restaurant. This restaurant has a Michelin star and the food is defined as "New Nordic". The two chefs who set it up (Christian Puglisi and Kim Rossen) are ex-Noma and, as we have been on the waitlist for Noma for over a month (to no avail), this looked like the next best thing. The reservation was for 9.30pm. We were eight minutes early. Eight minutes. And we were asked to come back in eight minutes time. Which, I guess is kind of fair. If your reservation is 9.30pm, don't show up at 9.22pm. However, Denmark at night, in December is COLD.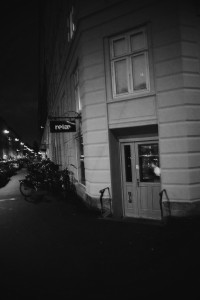 So. After sauntering up the street. Then down the street. It was 9.30pm. We arrive and are pointed to where we can hang our coats up. Then we are left. This restaurant is pretty small, with no waiting area. We end up looking like total idiots in front of the restaurant, having to seek out the waitress to seat us.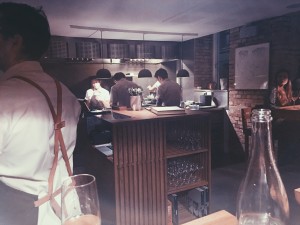 Finally, we are seated. The restaurant is intentionally "relaxed". I am writing it like this because it tries to be relaxed, whilst (in some way), being unnecessarily pretentious. As a result, it kind of falls through the crack and fails on both parts. It is neither attentive in service nor chilled and relaxed. There are two areas, we sat in the area where you can see the kitchen. Fine by me, I find working kitchens mesmerising. At Relae, the serving staff and chefs are one and the same. If they made it, they serve it.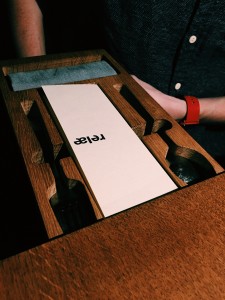 Sitting, we are served some sparkling wine and instructed to open the drawer where the cutlery and the menu is housed. We choose the four course menu. It just says "four course"- the rest is a surprise and a discovery. We opt out of the wine pairing for this one- and she tells us that, when we are ready for more wine, we will be given it to align with the course (we are not trusted to choose for ourselves! That's ok though. I know pretty much nothing about wine).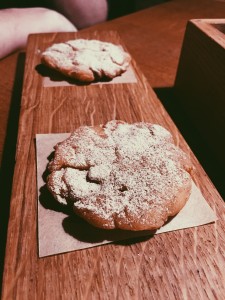 The first amuse bouche is a salsify fritter with mushroom powder. We are delighted to discover that the Danish don't shy away from salt. The mushroom powder plumes into the air as we take a bite and the light illuminates the little clouds we create with every bite.
The next course is hardly worth a photo. I have one, but no amount of VSCO and filters can make it look better than it did. It was steamed leeks and oysters: it just looked like a pile of steamed leeks plonked on a plate. In fairness, they were delicious. Best damn leeks I have ever had, probably. However, the oysters. The oysters. I LIKE oysters. I like oysters RAW. However, something weird happens when you cook them: they become like little hard lumps of salty bleurgh. Ick. And I wasn't the only one who felt this way. I was, however, terribly British about it all. The couple on the table next to us (well, the woman from the couple on the table next to us) just said it. Straight out. No qualms.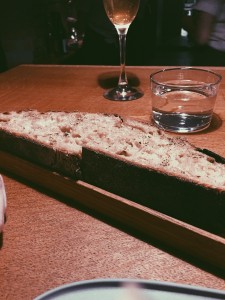 Then we have some bread. This redeemed Relae. Just amazing sour bread with Sicilian olive oil. You ate it, and more came. To the point where we realised you have to leave a little crust to stop the continuous delivery of bread.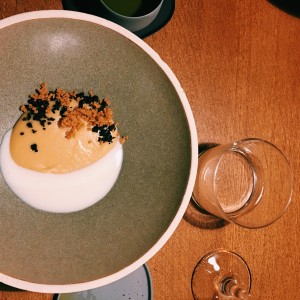 What followed was the snazziest potato dish I have ever had. Pureed potato served with the caramelised skins and buttermilk sauce. Here's something I learned about New Nordic cuisine: they love to serve a sauce at the table in a teeny weeny saucepan. It was delicious. However, it did make me think of my own days in catering and the foray into "can we dish a Pot Noodle up and make it sound good- and charge £18 for it?". Did we just get served a really fancy plate of Smash? I'm not sure. It tasted good though, so all is forgiven.
Another little pallet cleanser: it was a bowl of chicken broth and chicken fat. That's how it was described. I'm not going to lie: it was like drinking out of the bottom of the roasting tray after a Sunday lunch. It was good. As ashamed as a I am to admit it: "my name is Sarah and I just drank chicken fat and liked it".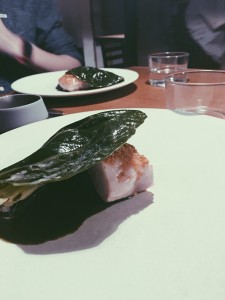 Then the main course. Chicken leg that had been poached at 62 degrees for 2.5 hours, served with a crunchy chicken skin crumble, cabbage and some other stuff (they didn't write it down! And they spoke really fast!). Honestly, it was like fancy KFC. There is just no need to be faffing around like that with a 2 inch piece of chicken. I mean- it was OKAY, but it wasn't amazing.
At this point as well, we were totally prepared for the second glass of wine- the one we weren't allowed to choose- but it never came. We continued to drink water for the rest of the meal!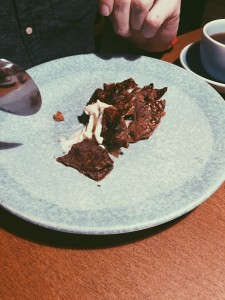 Then pudding. Yum. Well, if you know me, I have a real issue with the mixing of sweet and savoury. No cranberry on my Christmas dinner. No pineapple on pizza (they are like little pellets of scolding sugar…why?!). Sugar cannot invade my savoury. However, this is the first time that savoury has invaded my sweet (that I can recall): this was Jerusalem Artichoke ice cream topped with Jerusalem Artichoke crispy something. After the shock, it was actually pretty nice. And it ended up not being my only serving of it. It showed up at The Studio too. I am guessing chefs move between the many Michelin star restaurants in Copenhagen. Finally some coffee: coffee selected JUST FOR THEM by the Coffee Collective. I rarely drink my coffee black (even when the guy in Colonna and Smalls in Bath told me I had to, I made him bring me a bit of milk!) but this was delicious. We actually went back to Coffee Collective later on in the trip.
I guess you can see where this is heading. It was nice. It was alright. But it wasn't Michelin star alright. I know we were the last people in (9.30pm table) but still, the staff were kind of uppity and not relaxed at all, and some of the food was less experimental and eye-opening and sometimes just (frankly), a little bit ick (I am referring to the oysters here specifically). The opinion of a few on the night too. I guess you're getting something Noma-esque with Relae, however I get the impression that it might just be a poor iteration. On the plus side, you are getting something Noma-esque without the Noma price tag: 4 courses was 450DKK which is about £45. So, whilst I have been critical about it being an iteration, the price is adjusted accordingly!