I have spoken of my love of my Samsung Note 3 before. It was a great, GREAT phone. Twenty-four months after our love affair begun, it was time for my scheduled upgrade. However, to my disappointment, there was no Samsung Note 4 on offer. I tweeted EE. Apparently no indication on whether they will be taking the Samsung Note 5 either. Crushed. So, knowing that I wanted the "fablet" format, I opted for the iPhone 6s Plus. First attempt to deliver involved the wrong name, wrong address and- turns out- wrong phone. Second attempt it all worked out. I am, once again, on the Apple train…cart…whatever.
I still haven't mastered it though.
Here's what I miss from the Samsung
The back button. It was an actual button. I keep getting stuck inside pictures and videos on the Apple and smashing the edge of the phone with no response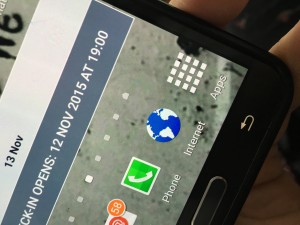 Time zones. I had multiple time zones on display on the Samsung, which is great for work and knowing what time it is in Japan/China/America. Now, you can do it in the clock menu on the Apple, but it's not on the front page.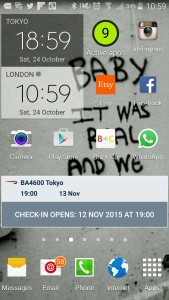 Things that the Apple can do better
Why oh why would you not load the apps on in alphabetically rather than chronological order? Is there a setting to fix that? It's making me mad that Nest and Trainline are coming after Whatsapp and WordPress. Grr.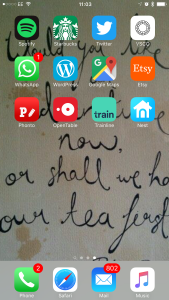 The Apps are generally better. I guess people design for Apple first. However, here's a couple of things that have annoyed me in the last couple of days
Spotify: I accidentally added a remix of a track to my playlist. HOW ON EARTH DO I DELETE IT!? I had to delete it from the Samsung I was getting so annoyed! There is a "Remove from this playlist" button on Samsung but not on Apple. Why!?
Whatsapp: you can't transfer everything over without downloading some dodgy apps or following insane instructions on YouTube. That's why people use iMessage I guess!
WordPress: I can't work out if I have set it up wrong, but it's just not as good as on Android. Is that something to do with open source?
It took a while to transfer, but Apple have an Android to IOS app to transfer everything across (messages, contacts and pictures mainly). Only thing that was annoying was that it took across the photos as a photo roll, not folders. I have about 3500 photos on my phone- all neatly organised. Now they are in a massive long list of mess. It's not even bloody chronological. So, I had to do something I had hoped to avoid: I had to use…iTunes (noooooooooooooooooooo). I had to take my photos across from the memory card on the Samsung, load them into "My Pictures" and sync across.
What's so annoying about that?
iTunes is computer evil. It just takes over everything like a parasite.
I cannot edit those folders now. Why? Why can't I add new things to those folders? Or delete stuff? Why? Why? Why?
So, that means, that all new photos need to go into new folders.
OR, I have to spend time re-filing the 3500 photos.
I just need to get over it.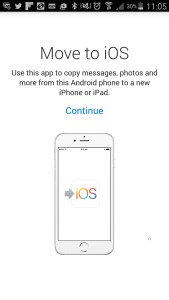 There is also no "hidden folder" option. Not even a password protect folder option. In order to do this, you have to download some sketchy looking apps, which I wouldn't trust with sensitive information, ever!
But overall, here's what's great about the Apple
It is beautiful: the resolution is stunning, my matte "Kardashian" gold finish (Matt's comment, not mine) is lovely, and it just feels nice (yep. I know. This really is turning into a really "quality" review)
The Apps, generally, are better.
I have to love it. We're going to be pretty close for the next 24 months.
I can't comment on the camera yet, because I haven't played with it properly, but it seems ok. Might have to do a comparison on that separately. It was the thing I was most nervous about because the camera on the Samsung Note 3 was pretty good!
The accessories are better. Nobody makes nice Samsung cases. I practically had to commission mine. iPhone 6s Plus has a wealth of choices and I got this nice (I think) marble effect one (cue "so why get the Kardashian gold and then cover it up?" question). In addition, I like braided cables and there are loads of choices in terms of lengths and colours on Amazon for lightning cables- not so many for micro USBs.