On the harbourside in Copenhagen there is a green, art deco building with a clocktower. Opened by Claus Meyer, from Noma, and jazz musician Niels Lan Doky, the building houses a jazz club and three restaurants: Almanak serves sandwiches in the day and more traditional food at night, Verandah serves pan-Indian food and Studio, where we went, which aims to create dishes inspired by nature.  It has a Michelin star and is run by ex-Noma chef Torsten Vildgaard (read about him on Eater
here
) who actually served us some of the courses. It only opens for lunch two days a week so we went along on Thursday, along with two other tables and had an amazing lunch.
The staff were so friendly and attentive, they knew who we were on arrival (a product of well spaced reservation timings I suspect) and took us over to our table. We had a view of a grey, rainy Copenhagen and the half built bridge that connects Christianhavn and the main city. That sounds dreary- it wasn't.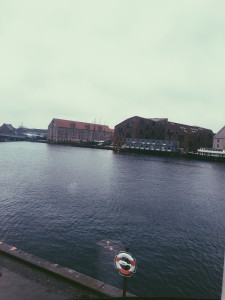 We started with champagne and these beautiful potato fritters as amuse bouche.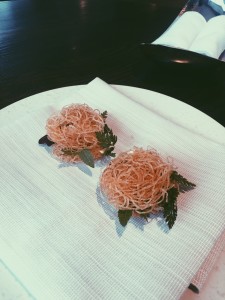 Delicately flavoured with herbs they were stunning golden nests. On the first bite, however, the familiar taste overwhelmed us: potato, salt and vinegar- this was a very fancy chip shop amuse bouche! Of course it was better than the Great British Takeaway at the top of the street at home. The amuse bouche came with a sealed envelope-and silver letter opener- where you can read the menu and make your choices. We chose the three course menu. However, it became so much more than that!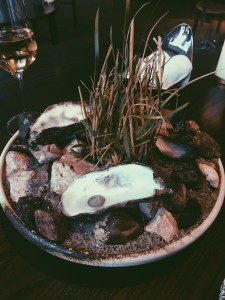 As it was a special occasion for us (unintentionally we told them this- they just asked why we were in Copenhagen!), they served us with two huge oysters with lime juice and green strawberries to start with. (oops. Only took the photo once they were eaten). That was just a little extra that was off the menu that the charming Torsten Vidgaard served us himself! I thought they were Danish oysters…turns out they were French. Exquisitely flavoured and very kind and generous of the team at The Studio.
I cannot remember the exact order that everything came in.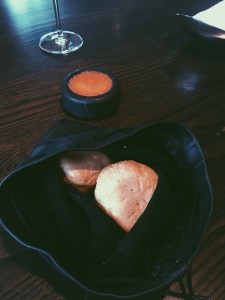 There was a velvet bag with warm profiteroles made with bone marrow and a cream cheese and roe dip.
There was also some beautiful bread with hand churned butter (served on a stone, seems to be the Scandi way). There was a sour bread, with a 4 year old sour dough starter and then an envelope with a dark crisp bread. The butter could be slathered on with, what I can only describe as, a plastering tool.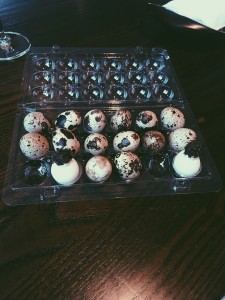 There was a dish of tiny quail's eggs, stuffed with some kind of cream and topped with truffles. You had to dip the egg into a pile of black salt too. Now, I don't eat eggs. But I did on this occasion. I just can't get on with the texture of a boiled egg, but if you dip it in salt and top it with truffle, an egg is significantly improved!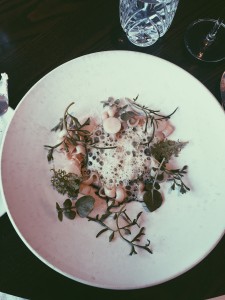 There was a delicious squid dish- Miso marinated squid with creamy mussel sauce
Wild cress- not at all rubbery. The sauce was served- again- from a teeny weeny saucepan.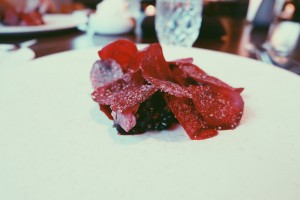 Then the main course was wild duck breast, glazed with liquorice and served with rose hips and these wafer thin pieces of beetroot dusted with rose powder. No, it didn't taste like pot pourri! There were also blackberries on the plate, and the sauce (again…teeny weeny saucepan) was a wild berry concoction with thyme. Visually it was bright and beautiful, and it tasted so good. The rose hips were almost like dried fruit.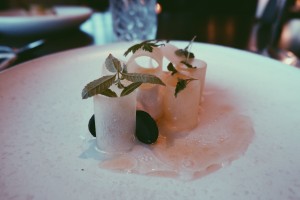 The dessert-Mutzo apples with Jerusalem artichok and brown butter Verbena-was ribbons of apple with dark, almost black, discs of burned hazelnuts formed into biscuits (they tasted like a solid form of Nutella!) Then, there it was again: Jerusalem artichoke ice cream!
Then, just when you thought there could be no more- we had an espresso, which was served with petit fours: a macaroon (we still don't know the flavour- but it was on a bed of orange gravel/cat litter that was also edible and tasted like childhood sweets) and some nougat served on a petri dish of pot pourri AKA rose petals
The design of this place is very Danish (as far as my design knowledge goes): an open kitchen with striking turquoise tiling, black lamps that hang down or extend over the tables and Danish chairs- including the most attractive office wheelie chair I have ever seen. There is no bar, so the deep, curved windowsills are adorned with rums and whiskeys. I would definitely recommend this place. The reason I booked for lunch was because they were full in the evening, but the guy informed us that they usually get a few cancellations on the day. It is Michelin star as I expect it to be (in comparison to Relae the night before), with exceptional service in a beautiful location. It is reasonably priced as well: our lunch was 450DKK which is about £45.