I'll admit it: I'm not a consistent fitness freak. It goes in fits and starts. I am a fair weather fitness fan. However, one thing that does get me motivated to workout is fitness fashion. As it's January 1st, and we're probably all making some resolutions, I thought I would run through my fitness fashion wants for 2015 from my favourite brands
Lululemon
There are 2 things that I repeat buy from Lululemon
1. Ta Ta Tamer sports bra
This is the best sports bra I have ever owned. This one is designed for larger cup sizes and gives great support. The fabric (as all the fabrics at Lululemon) is breathable, soft and easy to wear. I discovered Lululemon when living in the US and their stores are beautiful. The selection available here is a bit less, and it costs a bit more, but I would definitely recommend taking a look. The Ta Ta Tamer is £52 in the UK here and $58 in the US here.
2. Bang Buster
The headbands at Lululemon are great- because they stay put! In August I had a fringe/bangs cut in, and these headbands are excellent, whether you're working out or whether you're putting your make up on. The selection in the US is better- I have some great reversible versions of it- but in the UK you can buy the black version here for £18, in the US there are a few available here for $18.
For tops, I like the No-Limits Tank because it is long enough to pull over your bum, and it keeps you cool during spinning or yoga. It costs £58 and can be found here.
Nike
I have fallen back in love with Nike this year.
I just love their trainer/sneaker selection. My current trainers are the Lunarglide 5 in a sort of neon orange/pink, purchased last year from the Nike store in Chicago. They have since launched the Lunarglide 6 (which I also love…lots of "love" going on in this section) and my favourite colour is the Deep Burgundy/Hyper Punch/Action Red ones. I have pinned them on my Pinterest board here. They are £95 in the UK here and $110 in the US here
I also like Nike leggings. The JDI (Just Do It) Leg-A-See (get it?!) leggings are long enough if you're tall (I'm 5'10") and comfy for working out, or wearing around the house (yeah…that's what I've been wearing them for recently). They are available for £30 in the UK here or $45 in the US here. I have pinned the latest on my Pinterest- the hot pink JDI flash is great. I want them!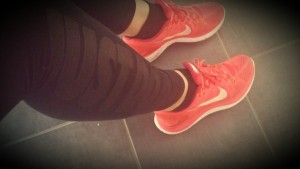 In their new releases I really like this Nike Burnout Long-Sleeve in burgundy which is £30 in the UK. I can't find it on the US Nike site, but I like this $50 one in the Burnout range here, also in maroon/burgundy.
Gap
My final "like" is Gap. In the US, Gap also have a brand called Athleta, which aren't available in the UK, but they will ship internationally.
I really like their Capri bottoms, because they also have a tall option (and a petite, plus and maternity option). I have some like this in the electric blue and a pair in orange. The fabric is excellent and looks great wash after wash.
In the UK, I like the GapFit range and in particular their hoodies and jackets. I like this Gap Fit Studio Space-Dye Hoodie on sale for £32.99 or $59.95 in the US here
Well…I suppose that's enough procrastinating…better go fish some of these items out and do something!