I haven't posted for a while because, every Saturday morning, I wake up with a long list of things to do on my Google Keep app. A list of things related to finishing our kitchen/hallway/downstairs loo project. This morning I woke up happy. Happy in the knowledge that, this weekend, I don't plan on lifting a paintbrush, chisel, Stanley knife or grouting spatula. Happy that there won't be tools strewn around my house. Happy that I can sit in my kitchen, right now, with a cup of coffee and not have to stress about the thin layer of dust that is coating everything around me.
This wasn't even a "big" kitchen project. No cupboard changes, no floor changes, no appliance changes. It, really, was merely an update. It just seemed to take forever!
So, what did we do?
New paint- surprise, surprise for anybody who has visited my house or read the blog. It was Polished Pebble from Dulux. I just love it. Our house is sort of open plan downstairs, so it also meant that the rooms can all flow from one to another in the same colour.
New tiles- Underground tiles from B&Q– £18 per m2, but on Bank Holiday they were £10
Those were the two major changes. I had made some…questionable choice before. So we had a red wall to paint over and red subway tiles to rip off the wall first. It was messy and kind of dangerous. I think my rule for the rest of my life will be "white tiles only". Any passion projects that I do on a whim have consequences: smashing red tiles off the wall, wearing safety goggles, is one of those consequences.
The rest was just decorating. Like I said, this project has taken a while. So when I was in the US in April/May I also picked up a few bits and pieces for the kitchen.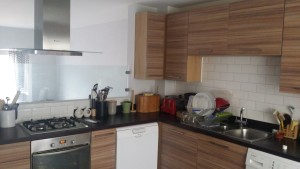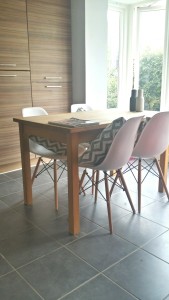 The chairs were from eBay, and are £107 for all 4 here
Storage jar for coffee: Montana 640z Acacia and Glass Jar from Crate and Barrel for £14.50
White Utensil Pot from Sur La Table– I just love that it's like when you tear the label off a can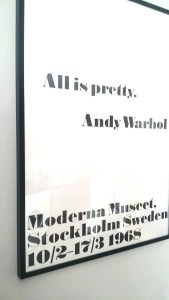 Andy Warhol Print from Moderna Museet in Stockholm. There is a series of prints, for 220SEK (around £20) each. The shipping is quite high though! It's framed in a RIBBA frame from IKEA for £16
New shelving unit. These are custom made by Stratosphere Design and match the bookcases we have in our living room here. The size is so narrow, there are no standard bookshelves on the market we could buy, but as the kitchen overlooks the living room, it's nice that they are the same. The cost was £150 for the custom made unit, which is actually cheaper than some of the standrd stuff you can buy!
Other "finishing touches" (Left to Right)
– Salt pigs- old from Sainsbury's, as is the tall, Nordic pepper grinder (£6 in the January sales!)
– Number hooks- 4 for £10 from Gollybygosh on eBay
Menu Salt and Pepper Grinders: I got mine on Amazon. They are kind of expensive and indulgent (£38) but I really like them! Read about the design principle here or you can buy them at Heal's here. It's a Danish design company and they have a lot of great stuff.
In contrast, the storage jar for the dishwasher tablets is £7.99 from Dunelm Mill here
And, despite the monochromatic theme of the room, the red Smeg fridge remains, along with the selection of kitsch fridge magnets from around the world!