There's something about September that makes you want to buy supplies- like back to school and stationery purchases. There's something about just wanting "new"- new starts, new attitudes and (shortly, for me) a new job.
So, the adult version of stationery is beauty supplies. That's a lie. Stationery is still amazing. However, for the sake of this post (and in reference to my September credit card bill) I have been buying beauty supplies. Online.
There's been 3 main purchases, and a lovely gift I received this weekend.
Clinique
My usual make us is Mac, but I wanted to try a bit of contouring, so chose these chubby sticks. I purchased two of them: the Chubby Stick Sculpting Highlight for £19 and the Chubby Stick Sculpting Contour, also £19.
I have tried using them: I think I need to watch a bit more YouTube! I ended up with shiny patches and some kind of streaky bits. Need to practice a bit more before I go out in public!
Mac
I did a total overhaul here! Most of them are my Mac staples- but I had a couple of new purchases! I chose a new mascara- upward lash- which needs to be used carefully! I ended up with doll's eyes this morning! I also got the Velvet Teddy lipstick: I don't wear lipstick, but this is perfect because it is really close to my natural lip colour. (I don't wear it because I am always afraid I have put it on wrong!)  It is, coincidentally, the Kylie Jenner lipstick- but I'm not going for the collagen plumped look. Natural is fine for me!
Bumble & Bumble
I love this stuff, and have a shelf of it in my bathroom. I needed to order new shampoo (I have been using Creme de Coco all summer) and chose the Seaweed one, which I haven't tried yet. It does say "suitable for frequent bathers"- which seems a rather redundant statement. I also purchased this creme called "Don't Blow It": I try to alternate blow drying and air drying my hair. When it is air dried, I wear it up. I spotted this product and thought it would be perfect to tame some of my frizz on an air drying day! The final product I purchased was SemiSumo (upon the recommendation of a super-chic friend) to try when styling
The best thing about ordering direct from Bumble & Bumble is the samples- I got 3 styling cremes added to my order! I got the Repair, Straight and All Style, as well as a shampoo sample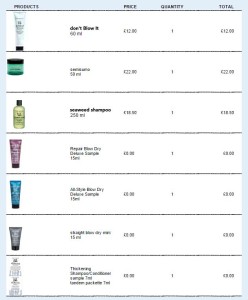 Tarte
An amazing gift from an amazing friend: this beautiful Tarte Rainforest After Dark Coloured Clay Eye & Cheek Pallet. The colours are perfect, and they go on (and stay on) amazingly. Apparently it's because of the natural clay