It's always a bit sad when a great holiday ends, but very rarely do I get a real feeling of sadness at leaving somewhere. Not like I feel now, sitting in Bandaranaike airport in Sri Lanka. After one week, I have fallen in love with this humid, tropical island. It's a combination of things: a holiday at just the right time, a bit of investment in myself (both in terms of treatment and in terms of intellectual broadening) but also this place. This place. It's just (and I know I overuse this word), amazing.
Sri Lankans are very proud of their island. Every person we met would ask "is this your first time to Sri Lanka?". The man who drove us from Bandaranaike down to Kogalla (a journey that takes nearly three hours), proudly introduced us to the island with three memorable facts
95 of all women get to go to school for free in Sri Lanka. He missed the "percent" off, but I am assuming that 95% of all women get to go to school for free. Including their uniforms being paid for. Healthcare is also free.
Four major religions live side by side in Sri Lanka: Buddhism, Muslims, Sikhs and Christians. This is displayed along the roadside, with the shrine "stops" next to each other. The Buddhist ones looked the best, complete with neon lights (in my opinion)
He explained that Colombo was divided into districts: District 1, District 2 (yes, he counted them out, no this is not The Hunger Games). When we got to District 8 whilst driving, he pointed out the very large prison, then quickly added "but it's very empty, very empty…"
So, they're incredibly proud of Sri Lanka it seems. They are also very happy. I know what the cynics of you will say (yes, tourism is one of the industries in Sri Lanka), but every interaction I had with people was kind, happy and friendly. You are greeted with a bow, with your hands together and the words "Ayubowan" or "Namaste" and plenty of smiles. They seem genuinely happy to receive visitors, but also happy generally. It's hard to believe that until 2009, this was a country in civil war, and that in 2004 it was a country hit by the tsunami.
Anyway, I know this all sounds a bit panama hats, cricket and cake. So I will stop with all of this, but know that it reflects more about my own lack of understanding and appreciation of this amazing country than anything else.
We stayed in Kogalla, which is on the South West coast of the island, in a beautiful hotel called "The Fortress". It takes a LONG time to get here, (and perhaps part of my sadness about leaving stems from the trek it takes to get back), and we arrived at 5am. I slept through a lot of the car journey, but I have just experienced it going the other way. Overtaking is the norm, regardless of whether there is an upcoming corner. Tuk Tuks are everywhere, beautifully decorated, but are also to be overtaken. Motorcycles, many without headlights- overtake them too. Pedestrian crossings- they have them, but they are largely ignored. People walking on the side of the road in the dark cause a fright. And dogs. Dogs everywhere, just running in and out of the road. It's an adventure. The only thing that makes it slightly more manageable for a Brit, is that they drive on the left.
So we get to our hotel, it's 5am and it's already (or still) hot. Like 23 degrees at night, steam up your glasses, hot and humid. The room is beautiful, looking out onto the Indian Ocean and I lay there the first night just listening to the ocean. Just perfect.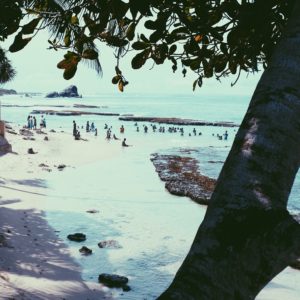 The hotel is on a long stretch of beach called Koggala Beach, and it has one of the longest beaches in Sri Lanka. It was significantly affected by the tsunami, and the waters reached 30ft high, and it's situated on the edge of a lagoon. (A lagoon! Anyone else think of Neverland in Peter Pan?) However, there is no sign of that now. Earlier in the year, you can go whale watching, but the seas become rough in April. You can walk along the beach (it is hard work though!) but you have to stay near the water. Firstly, because there is a lot of stuff that gets washed up, and secondly because the sand is so, so hot!
If you turn right out of the front of the hotel, you can walk along the coast the other way and see the fisherman on sticks. In fact, a whole coach of Japanese tourists offloaded to see them. I took a couple of photos, but then I think the guy was asking me for money…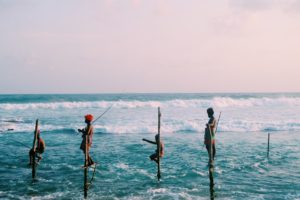 Food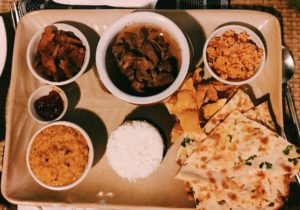 The food was delicious. As much as local people kept telling us it was "very expensive" in our hotel, it was about $15 a person for dinner. There are other hotels along the beach (going North) and there is a small café by the stilt fisherman. The hotel had a variety of Indian and Sri Lankan dishes, all of which were delicious. At times we knew full well that the meat in the dish was not the meat we had ordered…not a problem for us, but maybe for others. I had the most amazing lime pickle (hot, sour and the limes were still firm) and the naans were delicious. A proper tandoori oven, not packed into a foil envelope like you get when you order Indian food at home.
Pool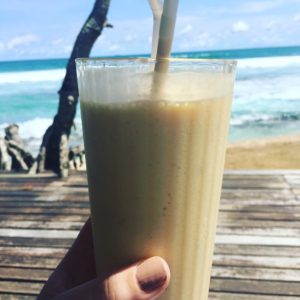 It's big and, most of the time, it's empty. Meaning you can just swim peaceful lengths without any hassle. There were a few kids, but they seem to keep away from the main pool (I wonder if they were told to do so?) There are little chipmunks that run around the pool, as well as some pretty bold birds, but all in all, it's incredibly peaceful. Drinks are delivered to you: Mango Lassi, smoothies and beautiful Ceylon Tea with a "kick". I managed to read five books whilst there, and it was so easy to just while away the time. Be warned though, the sea breeze is deceptive, so you definitely need sunscreen!
Spa
I had a few treatments in the spa. On the first day, I had a long facial (90 minutes) and my skin felt (and looked) amazing. And then I let myself get caught in the sun. So I had a mini facial on the last day, just to try and repair some of the tanning! I also had a Balinese massage- the first time I had ever had a full body massage- and that was an…intimate…experience. I also had a manicure, which was meticulously done- except for the polish- which crinkled up on my left hand. So I am sat here with super soft skin, relaxed muscles and crinkly nail varnish.
Room
Just beautiful. A HUGE bed, a little lounging area which can look over the sea, and the most beautiful bathroom. Not as big as my favourite ever (The London, West Hollywood), but getting close. Every evening they would light incense oil under the sinks with candles and it would make the whole place smell amazing. We stayed in an ocean room with a balcony as well. The rooms are equipped with all the modern stuff you may need (TV, Bose Sound System, iPod) but we just didn't need it really!
So, in summary: beautiful island, beautiful people, beautiful hotel. It can't really do anything except make you feel a little bit more beautiful yourself, which is never a bad thing.